Did you know that everyone can increase the fire resiliency of their community by completing their everyday chores?
As we continue to experience unseasonably hot and dry weather, it's important to remind ourselves that the frequency and severity of wildfires will likely get worse before it gets better. That's why proactive preparation and awareness are crucial for everyone in British Columbia. Whether you live in the Interior, the Valley, the Island, or up north, your actions play an important role for the fire resiliency of your home, your community, and the province as a whole.
This is especially true when talking about FireSmart tasks. Even if a task feels small and insignificant, it's part of a greater effort and bigger picture: wildfire resiliency for the community and province you call home. While some may think that wildfire resiliency is only the responsibility of fire departments and wildland firefighters, the reality is that it's a shared responsibility between many parties. The following individuals and groups must work together to create truly resilient communities:
Wildland firefighters (BCWS)
Structural firefighters (fire departments)
Local governments and policy makers
Community organizations
Businesses
Homeowners
Of these parties, homeowners are the most common and can therefore make a significant difference. Every homeowner can do their part to increase the fire resiliency of their community by FireSmarting their property and encouraging others to do the same.
We get it. FireSmarting your property can feel like a daunting task. While it's easy to think that building fire resiliency takes a lot of complex work, the reality is that FireSmarting is surprisingly simple and straightforward. If every member of a community comes together and performs their FireSmart-proven chores (cutting the grass, cleaning gutters, etc.), this goes a long way in terms of increasing fire resiliency.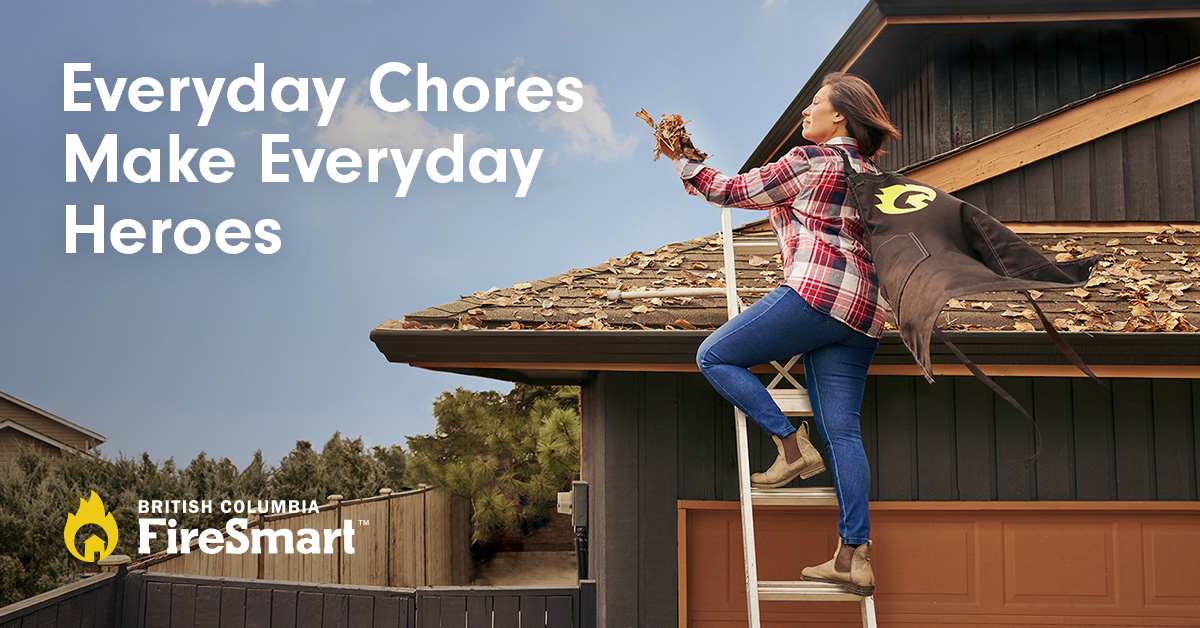 For spring 2023, we're using a combination of TV ads, billboards, email, and social media to show homeowners and community members that everyday chores make everyday heroes. To put it another way, it's the little tasks around your home that can make a world of difference if a wildfire comes a bit too close for comfort. To drastically increase the fire resiliency of your home and your community, you'll need to:
Remove debris from your gutters.
Mow your lawn and keep it under 10cm tall.
Relocate combustible materials (firewood, propane tanks, etc.) at least 10 m away from your home.
Clean out under your deck to remove combustible debris such as leaves and branches.
Prune tree branches on your property that are within 2 m of the ground.
Reduce highly flammable plants on your property and choose fire-resistant plants to replace them.
As you can see, many of these tasks are simple everyday chores that you can check off your list with a free weekend, a few tools, and some elbow grease. With the 2023 spring campaign, we're speaking to members of communities across the province to remind them that these chores are easy to do and well worth the effort.
To achieve this, we're utilizing a variety of methods to guide people to our new campaign landing page, a valuable resource for every homeowner that highlights our message while showing how everyone can do their part to keep their community safe. For example, visitors can download helpful infographics, watch informative videos, and access a variety of other resources (such as our Homeowners Manual) to help them on their FireSmart journey.
The landing page also allows visitors to learn what FireSmart is and why it matters. This is crucial for those who don't know about FireSmart or those that have heard the name but wish to learn more about the principles behind it. For example, some visitors may be surprised to learn that FireSmart is built upon solid wildfire research, something that informs all of the tips given to homeowners.
Remember, wildfire prevention is a community effort. The more we all chip in by doing our everyday chores, the more fire resilient our homes, communities, and province will be.