In collaboration with our partners, FireSmart BC recently hosted the 2023 Wildfire Resiliency and Training Summit in Vancouver from May 10 – 14. Formally known independently as the FireSmart BC Conference and the WUI Symposium, this important five-day event focused on community wildfire resiliency and wildland-urban interface training. At the Summit, individuals from across the wildfire sector in BC came together to educate themselves, share in breakouts, and network with others from around the industry. The event kicked off with a three-day in-person conference at the Sheraton Vancouver Wall Centre and was followed by two days of training exercises in North Vancouver for BC's firefighting professionals.
Before discussing the event itself, it's important to acknowledge the land first. The Wildfire Resiliency and Training Summit was proud to have all three host nations (Musqueam, Squamish, and Tsleil-Waututh Nations) open each day with a traditional welcome message to acknowledge the land where the event took place.
Our theme for this year's event was Partners in Progress. We recognized that collaboration and partnerships are critical for keeping BC communities safe and building fire resilience. We also had the chance to celebrate our existing partnerships and create new ones through valuable networking opportunities, including a full day that was devoted to bringing BC's firefighters and the FireSmart community together on May.12.
With three keynote speakers, five expert panels, twenty breakout sessions, four workshops, and eleven training programs, the Summit had something of interest for all attendees. Since there was so much information packed into five days, we wanted to take a moment to share some of the highlights of the summit for those who were unable to make it or for those that were present but couldn't attend every event.
Keynote Speakers
The Wildfire Resiliency and Training Summit featured three keynote speakers, each bringing something unique to their session. Speakers included:
Dr.Tara McGee – University of Alberta
Dr. McGee presented "Encouraging and Supporting FireSmart Activities: Insights from Social Science Research." These research findings helped to encourage and support the development and implementation of FireSmart activities at both property and community levels.
Christina Hanger – Country Fire Authority (Australia)
Christina Hanger spoke about "Community Engagement Across the Emergency Management Lifecycle." Here, she shared lessons learned from Australia and explained why communities behave the way they do. She also discussed what practitioners can do to improve community engagement before, during, and after an emergency.
Chief Daniel Berlant – CAL FIRE (California)
In California, a key component of their strategy has focused on community preparedness. That's why Chief Daniel Berlant took some time to discuss "California's Focus on Community Resiliency." Here, he covered the latest wildfire science research, legislative changes, parcel-level and community mitigations, building construction, land-use planning, and public education.
Panel Presentations
The Summit featured five unique panel presentations, each offering an opportunity for open forum discussion among topic experts in addition to extensive Q&A sessions from attendees. The following panels were a great chance to learn from a wide range of experts:
Executive Panel: Partners in Progress
In this panel, senior managers across emergency management organizations and local government officials talked about partnerships, the importance of shared responsibility, and working together to build a wildfire resilient province.
Fire and Insurance
This panel of experts discussed the role that insurance can play in wildfire. As part of their discussions, they highlighted the most common misconceptions, the biggest hurdles we are likely to face, and the ways we can work together in the near future.
Allyship, Collaboration, and Partnerships: Indigenous Voices and Perspectives on Fire Stewardship
Allyship, collaboration, and partnerships are crucial for safeguarding communities and building fire resiliency. In this panel, attendees heard stories and experiences about the importance of honouring indigenous voices and perspectives on fire stewardship.
FireSmart and Structure Protection: The Why, How, and What
The links between FireSmart principles and structural protection were expanded upon as part of this panel. Experts discussed why we integrate the two, how they complement each other, and what it is that we do in this space to increase community wildfire resiliency.
Wildfire in California
CAL FIRE shared information about everything from asset deployment and communications to community programming and land-based risk mapping. They also showcased what they've learned from some of the most catastrophic fire seasons on our continent.
Breakout Sessions
A variety of smaller breakout sessions took place between the keynote presentations and panel discussions. Here, attendees were able to select topics that were applicable to their field of work and perform a deep dive into the latest research, policy updates, and other information. Key topics for these breakout sessions included:
Collaborative Wildfire Management
FireSmart Community Funding & Supports
Community Wildfire Resiliency
FireSmart Education
Community Engagement
Research and Innovation
Indigenous-Led Fire Practices
Revitalization of Cultural Burning
Development Permit Areas and Official Community Plans
The Lynn Orstad Award
Lynn Orstad was a respected fire safety advocate dedicated to furthering wildfire resiliency across all jurisdictions and levels of government. Throughout Lynn's career and her personal life, she acted as mentor to many; including young women that sought to build a career in wildfire risk reduction. Her unexpected passing in 2021 prompted the opportunity to honour her memory and pass the torch to other female wildfire advocates.
In memory of Lynn Orstad, FireSmart BC, FireSmart Alberta, and the Co-operators partnered to create the Lynn Orstad Award: Women in Wildfire Resiliency. This is an annual award that honours women who have contributed to furthering wildfire resiliency in their community, agency, or province. Voting for the award opened in late 2022, with many individuals nominating women that shared Lynn's qualities and her dedication to building community wildfire resiliency. At the Summit, we took the time to recognize three winners this year:
Erin Robinson, Forestry Initiatives Manager, City of Quesnel
Deanne Suddaby, FireSmart Program Advisor
Brittany Seibert, Emergency Program Coordinator, City of Penticton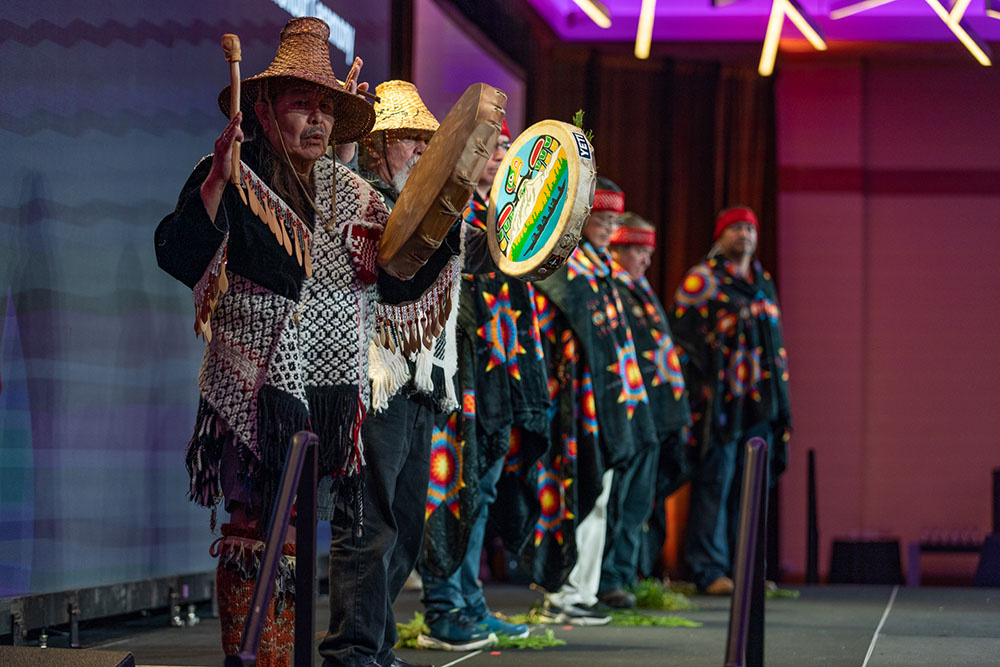 Indigenous Wildland Firefighter Honour Ceremony
Indigenous Peoples play a crucial role in fire stewardship, wildfire management, and knowledge production across the province. That's why the Wildfire Resiliency and Training Summit took the time to honour four BC firefighters for their continuous efforts:
Jonas Joe
Joe Gilchrist
Darrell Peters
Evans Stump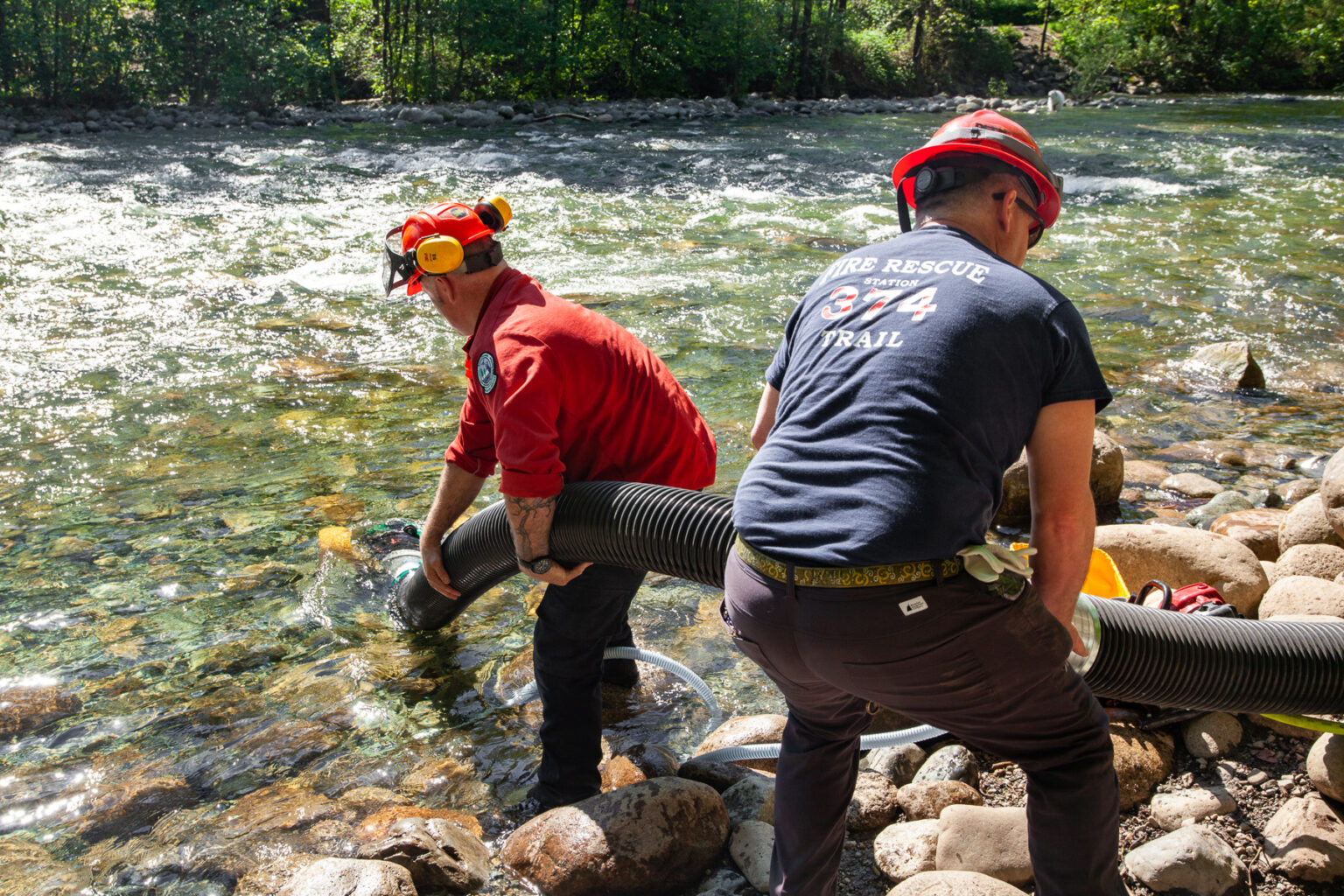 Training Opportunities
Following the conference portion of the Wildfire Resiliency and Training Summit, operational attendees were transferred to North Vancouver for two full days of training courses and classroom discussions. Key courses for this portion of the Summit included:
Task Force/Strike Team Leader
Emergency Operations Centre
Structure Protection Base/Staging Manager
Large Water Supply Operations (Structure Protection)
Wildland Structure Protection Program
Wildland Firefighter – 1 "Train the Trainer"
Engine Boss
Wildfire Operations "Boots on the Ground"
While educating attendees was a primary function of the Wildfire Resiliency and Training Summit, another main goal was to provide ample opportunities for teamwork and interagency cooperation. With so many panels, breakout sessions, workshops, training opportunities, and facilitated zone meetings, attendees were able to network, build new connections, and strengthen existing relationships with wildfire professionals across the sector.
A major success of the Summit was that it was able to bring people with different perspectives together to learn, connect, and share. Because of this, attendees left with new wildfire resiliency knowledge to share with others in their circles. If you couldn't make it to the Summit this year, don't worry. There's always next year! While this year's event was held in Vancouver, the location changes every year. Stay tuned for more updates regarding next year's Wildfire Resiliency and Training Summit!