Research
FireSmart is based on foundational scientific evidence that suggests changes to the built environment are the best and most cost-effective way to increase a home's survivability from wildfire.
FireSmart standards are adopted to decrease the likelihood of losses from wildfire events. It is recognized that there is an urgent need to increase and improve the scientific basis for FireSmart approaches to increase the wildfire resilience of communities.
The Lytton, BC Report
An examination of the Lytton, BC wildland-urban fire destruction
This report, authored by Jack D. Cohen, PhD., and Alan Westhaver, M.Sc., was commissioned by the BC FireSmart Committee and published by the Institute of Catastrophic Loss Reduction (ICLR). It provides a comprehensive examination of the Lytton Wildland-Urban fire disaster for the purpose of:
Understanding the relationship between the wildfire conditions and how homes and businesses ignited and burned to total destruction resulting in the Lytton WU fire disaster on June 30, 2021.
Communicating understanding and awareness specifically related to the Lytton WU fire disaster examination revealing fundamental principles of all WU fires that can be generally applied by residents, municipal and emergency managers such that all communities can choose to become more wildfire resilient and more likely to avoid future disasters.
Making recommendations for readily attainable ignition resistant materials and designs, and best practices for rebuilding and maintenance of fire-resistant communities at the Village of Lytton and Lytton First Nations, Klahkamich (IR 17) and Klickkumcheen (IR 18).
For an animated summary of the findings, click key learnings below, or download the full report. To watch a video presentation on the findings, click here.
Key learnings
Download report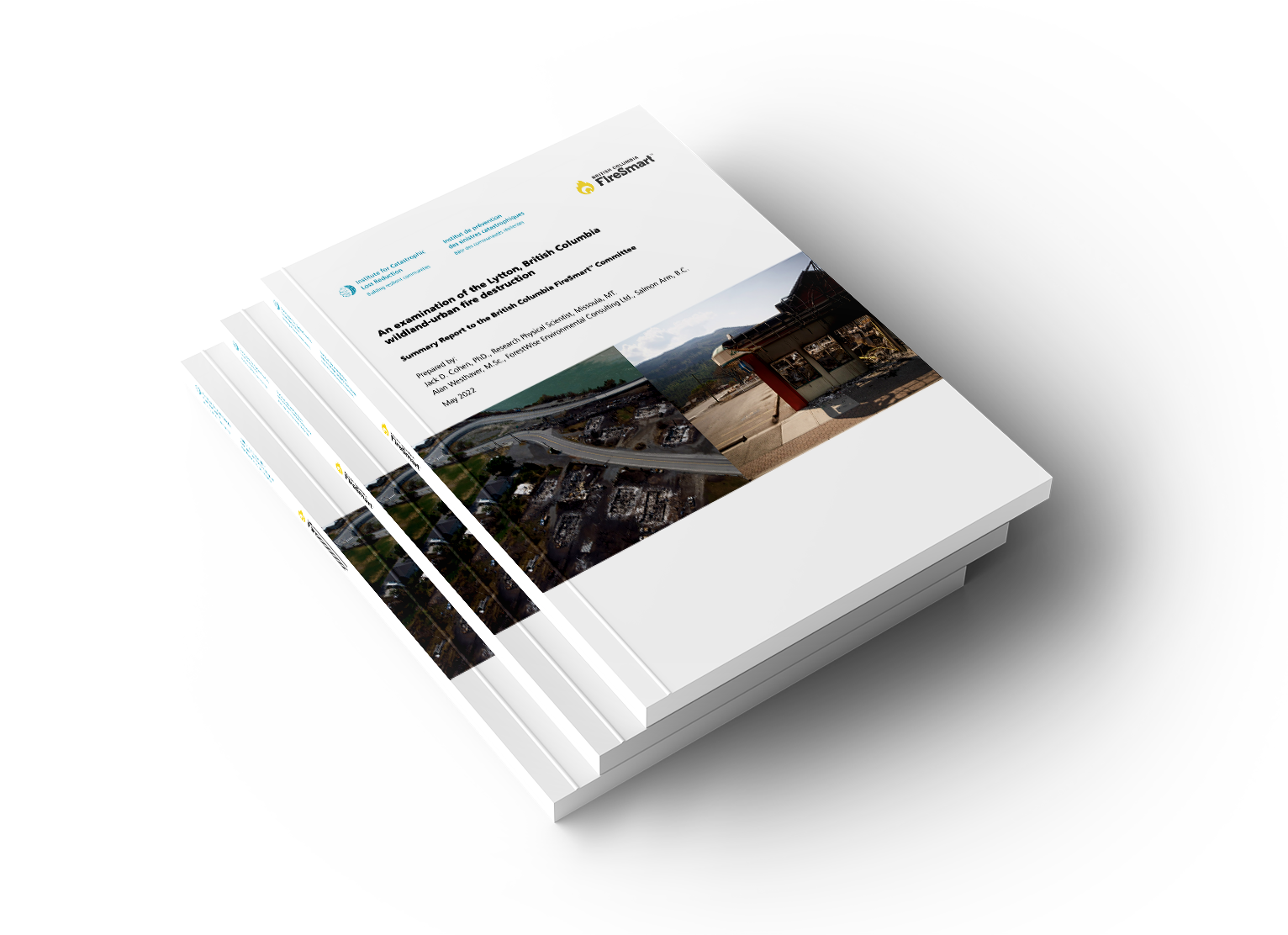 The Get FireSmart Podcast: Lytton Episode
This podcast episode dives specifically into the home ignition zone, as well as the recent report he was instrumental in bringing to life: An Examination of the Lytton, BC wildland-urban fire destruction. Alan shares what he and his team learned, what recommendations they have and some of the insights they gathered throughout their research and investigation process.
Wildfire resiliency papers from around the world
| Title | Location | Published | |
| --- | --- | --- | --- |
| State of the Air 2022 | British Columbia, Canada | | Learn More |
| Resilient pathways report: co-creating new knowledge for understanding risk and resilience in British Columbia | British Columbia, Canada | 2022 | Learn More |
| Measuring Initial Attack Suppression Effectiveness through Burn Probability | North America | 2019 | Learn More |
| Frontiers 2022: Noise, Blazes and Mismatches | Kenya | 2022 | Learn More |
| Wildland fire risk research in Canada | Canada | 2020 | Learn More |
| Building a Resilient Canada | Ottawa, Ontario | 2022 | Learn More |
| CBC: Into The Fire | Alberta, Canada | 2017 | Learn More |
| National guide for wildland-urban-interface fires | Canada | 2021 | Learn More |
| Cities Adapt To Extreme Wildfires | Ontario, Canada | 2020 | Learn More |
| Three Steps To Cost-Effective Wildfire Home Protection | Ontario, Canada | 2020 | Learn More |
| FireSmart measures begin with maintenance | Ontario, Canada | 2020 | Learn More |
| Blueprint for wildland fire science in Canada (2019-2029) | Alberta, Canada | 2019 | Learn More |
| Fire behaviour in thinned jack pine: two case studies of FireSmart treatments in Canada's Northwest Territories | Alberta, Canada | | Learn More |
| Fire-smart forest management: A pragmatic approach to sustainable forest management in fire-dominated ecosystems | Ontario, Canada | 2001 | Learn More |
| Barriers to FireSmart Development in Alberta | Alberta, Canada | 2022 | Learn More |
| Awareness And Adoption of FireSmart Canada: Barriers And Incentive | Saskatchewan, Canada | 2018 | Learn More |
| Scientists' warning on wildfire — a Canadian perspective | Canada | 2019 | Learn More |
| The Photoload Sampling Technique | Colorado, USA | 2007 | Learn More |
| New California law requires seller of home to disclose vulnerability to wildfires | California, USA | 2021 | Learn More |
| Wildfire Resilience Strategies for Real Estate | Washington, DC, USA | 2020 | Learn More |
| Forest fires and the law | Rome, Italy | 2019 | Learn More |
| Ember Characteristics | South Carolina | 2020 | Learn More |
| Changing Wildfire, Changing Forests | Washington, USA | | Learn More |
| Fire Smart Territory as an innovative approach to wildfire risk reduction | Italy, Portugal, Australia, Greece | 2020 | Learn More |
| Future impacts of fire-smart landscape management on biodiversity under rural abandoment and climate change scenarios | Porto, Portugal | 2020 | Learn More |
| The Science of Firescapes: Achieving Fire-Resilient Communities | Oxford, England | 2016 | Learn More |
| Wildfire Management in Chile: Increasing Risks Call for More Resilient Communities | Valdivia, Chile | 2021 | Learn More |
| Exposing hidden-value trade-offs: sharing wildfire management responsibility between government and citizens | Victoria, Australia | 2014 | Learn More |
| Bushfire & natural Hazards CRC | Queensland, Australia | 2015 | Learn More |
Current Project
WUI case-study research project
Our research currently being conducted over wildfire season aims to deliver:
A better understanding of the factors leading to ignition and loss of homes and other structures
A framework for post-fire examinations
An improved foundation for enhanced FireSmart guidelines and FireSmart communications with the public
Better informed policy, legislation and development initiatives regarding FireSmart
A stronger foundation for future wildfire resiliency initiatives
Case study guidance
Data Collection Framework
Please note:
FireSmart BC engages in research projects to study wildfire in the built environment. As part of these studies there may be drones, cameras and researchers present in your community. Private data may be inadvertently collected under 26(c) of the Freedom of Information and Protection of Privacy Act for the purposes of evaluating the effectiveness of the FireSmart principles. You may be contacted in the event that images or footage from your neighbourhood may be beneficial for public education purposes. An approval process to request permission via a consent and release form will take place before any data is shared.
For more information regarding these research projects please email
[email protected]
Research videos
Watch:
IBHS Research Center Ember Storm Test Highlights
Watch:
Understanding Wind-Blown Embers From Structural Materials and Vegetation
Who's behind the research?
The Standing Committee of Research under the BC FireSmart Committee is tasked with providing guidance on how best to support the furthering of wildfire resiliency in BC, establishing a method for research project coordination across the province, nationally and internationally as well as with aligning research priorities with those of FireSmart Canada as well as national agencies like Canada Wildfire, CIFFC and Natural Resources Canada.
Research partners