Did you know that Wildfire Community Preparedness Day (WCPD) is May 6, 2023? On this day, communities across Canada are encouraged to come together and work towards increasing fire resiliency and FireSmart education in their area. To achieve these goals, communities can take action by reducing the amount of fuel available for a wildfire to keep burning and spreading.
WCPD is a great opportunity for members of each community to work together to plan, organize, and carry out activities to educate residents about reducing or mitigating the threats of wildfire. For example, communities can draw up plans to purchase disposal bins, rent wood chippers for dead and dying trees, hire service providers, or perform other actions that reduce wildfire risk.
While every community faces their own unique set of social, economic, and geographical challenges, anyone can get involved on WCPD and take meaningful actions to enhance the wildfire resilience of the area they call home. Since every community is unique, however, every area needs a unique plan that can help them meet various FireSmart objectives.
If a community creates a plan for their area, they can apply for a $500 grant from FireSmart Canada and their partners. This grant funding can then be used to support the various costs associated with the plan, whether it entails equipment rentals or purchasing food for volunteers. This year, FireSmart Canada awarded funding to 230 neighbourhoods in 10 provinces and two territories, a significant increase from the 162 neighbourhoods in 2022.
Although funding for 2023 has already been finalized and applications are now closed, WCPD is still a great time to come together with members of your community and work toward a common goal: increasing the wildfire resilience of your home. It's also never too early to start thinking about your 2024 application. Securing a grant from FireSmart Canada and their partners can be a great way to further increase the fire resilience of your community, especially if you need additional funding to execute each element of your plan. The next funding application window will open in fall of 2023 and close Jan 31, 2024, so be sure to keep an eye out and get your application ready!
In addition to applying for the grant, many communities can use their activities during WCPD as a springboard to become part of the FireSmart Canada Neighbourhood Recognition Program (FCNRP). While being a part of the FCNRP isn't a prerequisite for grant eligibility, communities are encouraged to join it as the next step in their FireSmart journey. Learn how to apply for the FireSmart Canada Neighbourhood Recognition Program.
What communities are doing for WCPD
It can be difficult to determine where to direct your efforts on WCPD, especially if your community hasn't come together for a project like this before. That's why it's always worth looking at other communities and seeing what they've done in previous years for WCPD or what they plan to do.
The Town of Rossland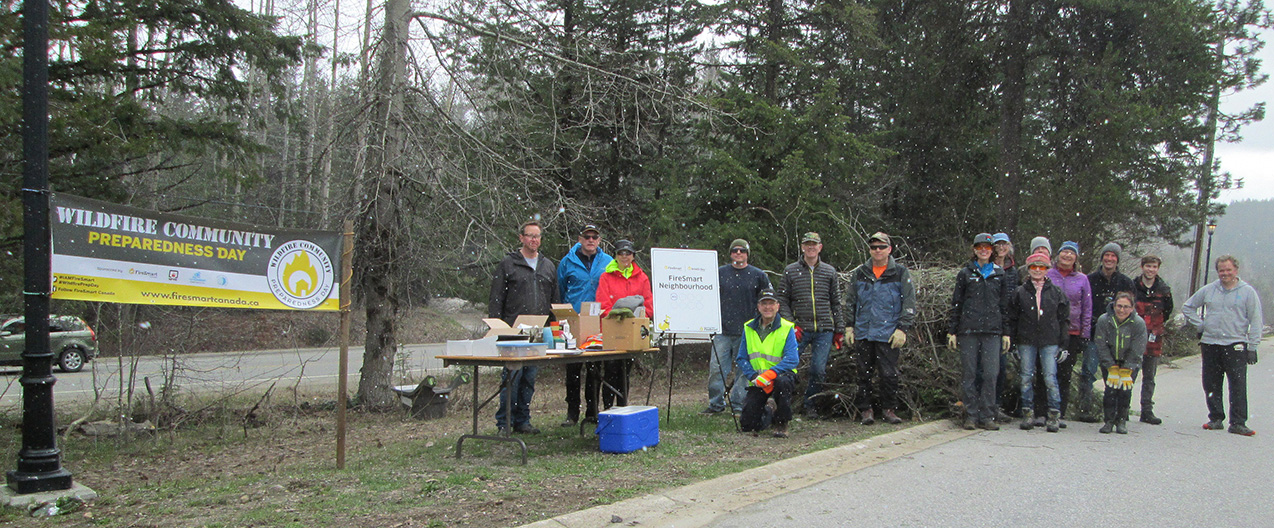 As part of an event organized by Red Mountain in 2022, the town of Rossland came together to trim branches from at-risk areas around their community. Remember, removing branches within two metres of the ground will help to stop surface fires from moving into treetops. As a recipient of the FireSmart Grant, residents of Rossland used their funding to rent a wood chipper and rent/purchase tools. This funding was also used to purchase BBQ supplies and food for a neighbourhood educational event, allowing residents to enhance the fire resilience of their community, while bolstering their FireSmart knowledge at the same time.
The District of Sooke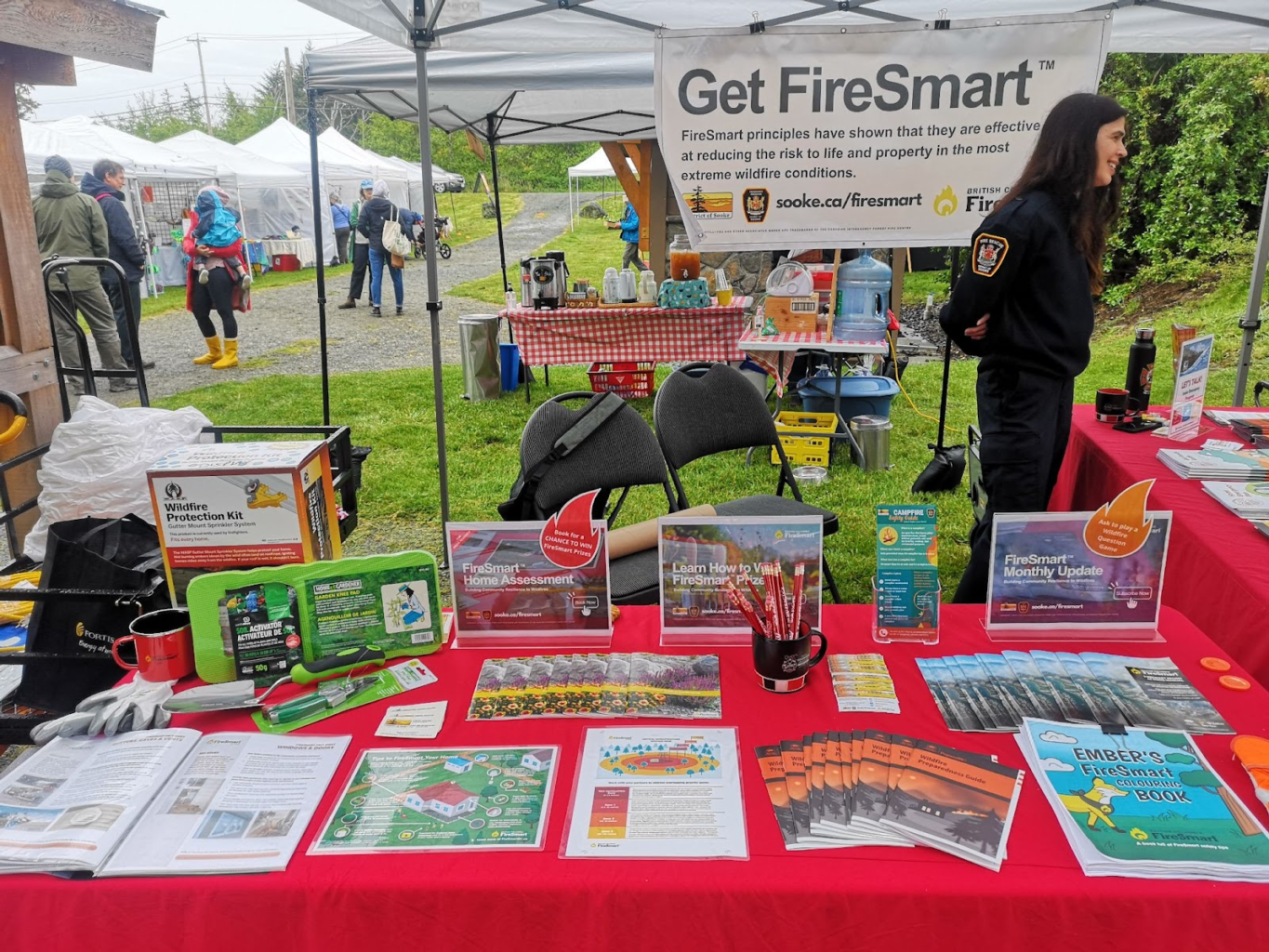 For the residents of Sooke, last year's WCPD was a day of learning and action. Sooke Fire Rescue hosted an event to provide information on FireSmart principles and demonstrate how every effort can make a difference for the fire resiliency of the community. With the grant funding, residents of Sooke rented dumpster bins to dispose of flammable waste, purchased gas for the tools and vehicles required for the cleanup, and purchased BBQ supplies for a neighbourhood education event.
Sonora Gardens (Osoyoos, BC)
This year, on May 6, the Sonora Gardens Homeowners Association will be coordinating an event to reduce fuel around the neighbourhood, educate neighbours about FireSmart principles, and work towards becoming a FireSmart Recognized Neighbourhood. For this event, homeowners and local FireSmart representatives will come together to clean areas around the neighbourhood (parks, yards, streets, etc.) and take part in a FireSmart public education activity. With the funding received for 2023, the Sonora Gardens Homeowners Association will be renting dumpster bins to dispose of flammable waste, purchasing fuel for required tools, and buying BBQ supplies for the educational event.
As you can see, there are many ways that communities can come together to increase wildfire awareness and fire resiliency for their homes and neighbourhoods. If you're not sure where to get started, take a look at our tips to FireSmart your home! Many of these tasks can be quickly completed and pay dividends in terms of fire resiliency, making them well worth the effort. Want some tailored recommendations based on your location and current weather conditions? Check out the FireSmart Weather Report for some items you can check off your list right now or on WCPD. If you're wishing you had more time to plan a big event for this year's WCPD, or maybe you're learning about WCPD for the first time, don't worry. WCPD is all about taking action and doing what you can. Remember, every little bit helps! Get out in your area with a friend and be the beginning of change in your neighborhood's wildfire resiliency.