One of our foremost goals at FireSmart BC is to find creative ways to get our message of wildfire prevention and mitigation in front of British Columbians. With the ever increasing onslaught of media overloading our eyes and ears, this can sometimes be a challenging task. Crafting a compelling message is only half the battle; it also needs to be available to people whenever and wherever they are ready to enjoy it—be it at their desk, in their car or in their yard. With this in mind, we've decided to get on board with one of the fastest-growing multimedia movements: the podcast. In the last year alone, over 15 billion hours of podcasts were consumed worldwide with 28% of listeners stating they prefer podcasts over any other audio content type, including YouTube, AM/FM radio, Spotify etc1. All of this leads us to today's exciting launch of the Get FireSmart™ Podcast!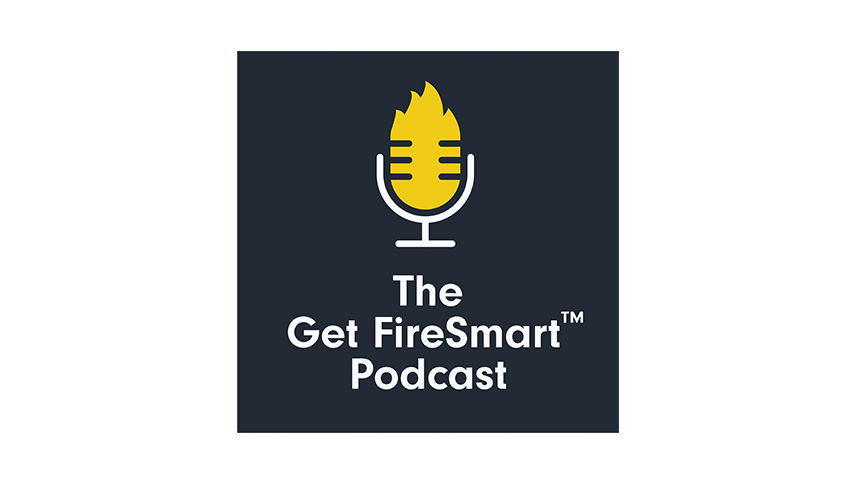 The "Get FireSmart" Podcast is a place to hear powerful stories and learn valuable lessons from FireSmart leaders across the world. The bi-weekly episodes will highlight the unique and insightful range of experts that make up the world of wildfire prevention and FireSmart. The 30 to 60-minute episodes will explore a variety of topics, ranging from practical tips around the home to the fascinating science behind wildfire prevention and mitigation.
Watch:
The Get FireSmart Podcast
Naturally, we wanted to put our best foot forward, which is why we have already recorded five distinctly diverse episodes for our audience to enjoy. An overview of each can be found below:
01: "A Fire That Changed A Community" Guest: Bryan Reid (Timber Kings)
In our kick-off episode, we speak with Bryan Reid (the star of HGTV's hit show Timber Kings) about the devastating fires from 2017 in Williams Lake, British Columbia. We hear his first-hand account of the impact these wildfires had on his business and his community, while learning just how fast and destructive the flames can be. From personal experience, Bryan highlights the importance of preparing your property long before the immediate risk arrives at your door. This is an important first episode and must-listen for homeowners, packed with powerful real-world examples on how to get FireSmart.
02: "What is FireSmart?" Guest: Kelly Johnston (FireSmart Canada)
We speak with Kelly Johnston, technical advisor to FireSmart Canada, to learn what FireSmart really is. Kelly helps us unpack the history, terminology, process, and science behind FireSmart. We discuss the importance of taking simple steps to protect your home and some of the things that all homeowners should consider when evaluating their property for the risk of wildfire. Digging deep into the science and history of fire, we also learn about Kelly's unique career. This is a great introductory episode for anyone looking to take action or to learn about the background of the FireSmart Program and why it's more important than ever.
03: "Defending a FireSmart Home From Wildfire" Guest: Rob Dombowsky (BC Wildfire Service)
In this episode, we speak with Rob Dombowsky from the BC Wildfire Service regarding the Squamish wildfire of 2020. Rob was the wildfire management lead and guided the response team in their effort to save some of the structures and homes threatened by the wildfire. Rob shares powerful stories and examples from the fireline regarding the impact FireSmart had on saving several properties. Additionally, he provides insights into what he looks for as a wildfire leader, including which structures firefighters have a greater chance of saving. This great episode is filled with real-life stories from the frontline, all while underscoring the powerful role FireSmart can play in protecting your home and neighbourhood.
04: "How Does FireSmart Work And What Can You Can Do" Guest: Amanda Reynolds (FireSmart BC)
In our fourth episode, we bring in our very own Amanda Reynolds to break down what FireSmart is and how it works. We chat with Amanda about her career journey, what drew her to FireSmart and the impact it has had on communities across British Columbia. In our conversation, Amanda shares details behind the FireSmart Neighbourhood Recognition Program (FCNRP) and the seven steps to becoming a Recognized Neighbourhood. This episode takes a deeper dive into a variety of topics, providing our listeners with multiple avenues for getting involved in FireSmart and why it is important for everyone to take part in the shared responsibility of increasing our wildfire resiliency.
05: "How Does Fire Think and Act?" Guest: Dana Hicks (BC Wildfire Service)
Diving into the science of fire, we speak with Dana Hicks from the BC Wildfire Service regarding how to understand, forecast, plan and prepare for the threat of wildfire. As a Wildfire Prevention Specialist in Prince George, it's Dana's job to try and predict what fire is going to do and where it is going to go. We discuss Dana's experience and how the BC Wildfire Service prepares for a wildfire season. Listen as he shares details regarding what the "Fire Danger Rating" is and how fuel and weather greatly impact the behaviour of fire. This is a great episode for getting a big-picture perspective on how fire spreads, as well as the importance of FireSmart activities.
So as you can see (and hear), we've got some great content for listeners to start with and some exciting future guests to come as well. Wildfire preparedness can be hands-on work, but we hope that our new Get FireSmart Podcast will empower people to use their ears as well!
The Get FireSmart Podcast is available wherever you listen to your favourite podcast. Follow us on social media to learn when new episodes will be released.