Successful forest stewardship brings together provincial, regional, and local governments and other partners to plan, prioritize, and act together to create healthy, resilient ecosystems.
The Cultural Burning and Prescribed microsite, firesmartbc.ca/prescribedfire, has recently published a new web page and video that highlights the key partners responsible for protecting our forests and communities in B.C.
Watch:
Shared Stewardship
The information introduces the concept of shared stewardship, along with its key values:
Working together on a larger scale
Cross-boundary solutions regardless of who owns the land
Joint priority setting (working together and sharing the risk)
Many government agencies, land managers, Indigenous communities, and other organizations are already working together to coordinate wildfire risk reduction projects, such as prescribed fire.
However, tackling the issue of wildfire prevention and mitigation on a larger scale requires an even bigger, more collective effort across our entire Province. The microsite serves to educate a variety of audiences about the role of good fire in our Province.
The microsite, which is governed by the Provincial Cultural and Prescribed Fire Steering Committee (an inter-ministry committee) and the FireSmart BC Committee, is continually evolving to include a wide variety of ideas, perspectives and stories to provide robust, inclusive and informative content.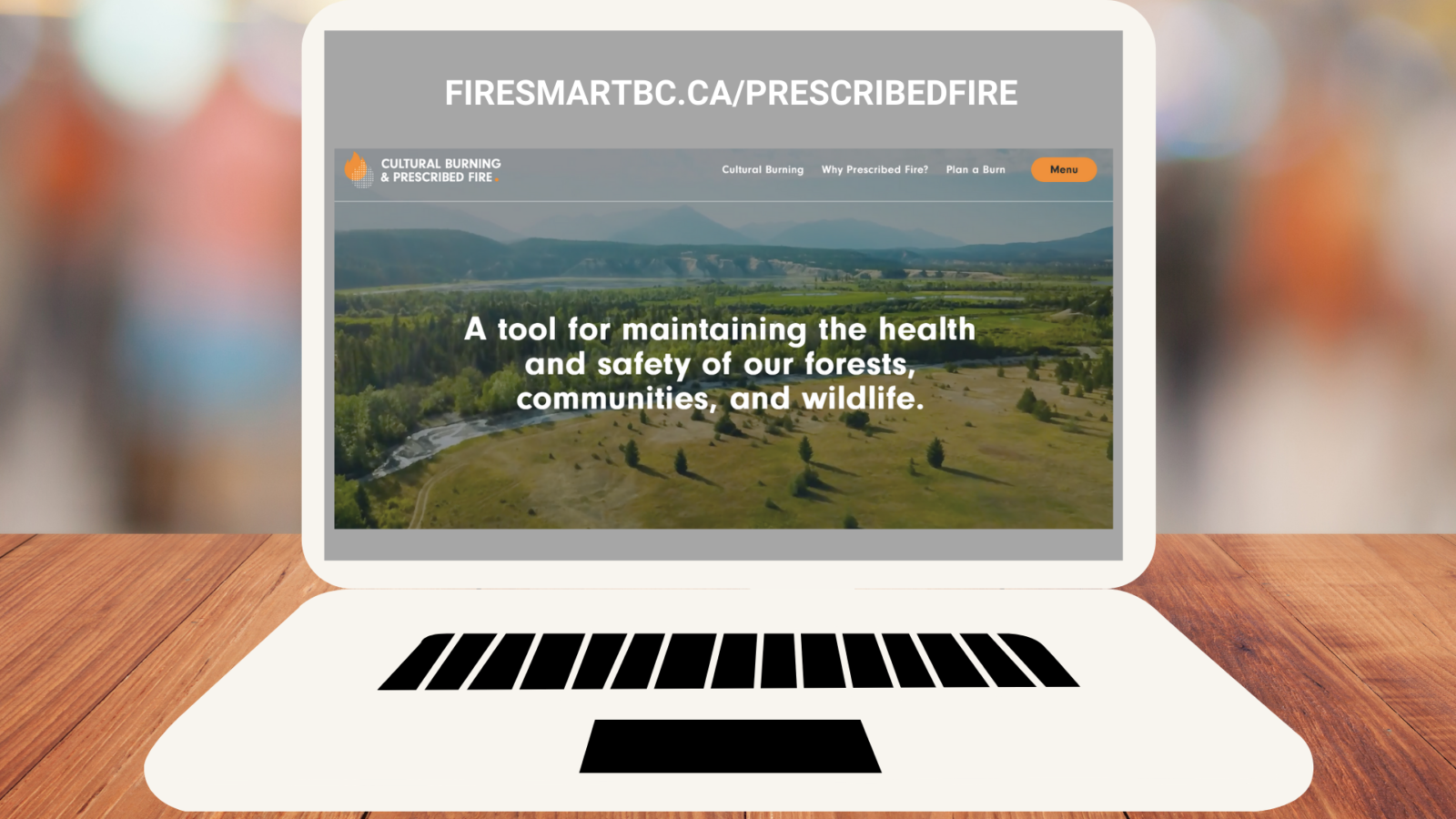 Today, firesmartbc.ca/prescribedfire is the most extensive online resource of its kind in B.C. dedicated solely to cultural burning and prescribed fire information and resources, including videos, photography and insightful articles.
Other new content includes, A Conversation with FireKeepers: a 7-minute documentary-style piece with a BC Wildfire Service staff member discussing the practice of cultural burning and the history of fire with two Interior Salish Fire Keepers.
Watch:
A Conversation with FireKeepers
The News and Insights page houses media coverage related to cultural burning and prescribed fire across the globe and can be filtered by local or International articles. Announcements and insights pieces can also be found on this page.
New third-party videos have also been added to provide audiences with case studies, such as the 2021 Ponderosa Prescribed Burn video produced by the Slocan Integral Forestry Cooperative (SIFCo).
After the extreme 2021 wildfire season – one of the worst that we have experienced in B.C. to date, the microsite saw a spike in web traffic reinforcing the need for a resource like this in our Province.
As we move into Spring 2022 and approach the potential for wildfire this summer, this dynamic web space will be valuable for continuing to educate British Columbians about how tactics, like cultural burning and prescribed fire, can protect our forests, communities and wildlife.
To learn more about cultural burning, prescribed fire, shared stewardship and more, visit firesmartbc.ca/prescribedfire