FireSmart BC September 2023 Power Hour
Princeton FCNRP Feature
Princeton residents and Local FireSmart Coordinator Dave Stringfellow share their journey and insights on achieving recognition from the FireSmart Canada Neighbourhood Recognition Program.
FireSmart Assessment Flowchart
Use this flowchart to help navigate which FireSmart Assessment form is best fit for you! From residential to community to agriculture, we have an assessment form that will suit your needs.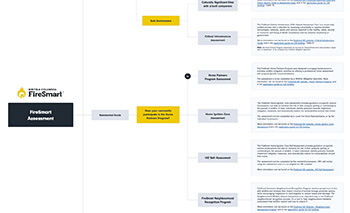 Culturally Significant Sites and Green Spaces Guide & Assessment
Use these resources to determine your Culturally Significant Site or Green Space's preparedness for wildfire.
HIZ Self Assessment
Use this Self-Assessment as a starting point to finding out how resilient your home and property is to wildland fire.
Be advised that this Self-Assessment is for informational purposes only and cannot be used to participate in any rebate programs. For more information on a professional assessment please
contact your Local FireSmart Representative
.
Web version
Print version
FireSmart BC Begins At Home Guide
This guide provides easy steps to make your property FireSmart, while also covering how wildfires grow and spread, and the bigger picture of creating FireSmart communities.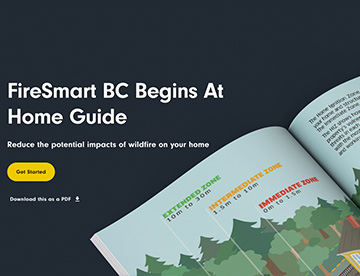 FireSmart BC Landscaping Tips Brochure
From mulches, to plant selection to maintenance, this brochure walks through all the basics of FireSmart landscaping.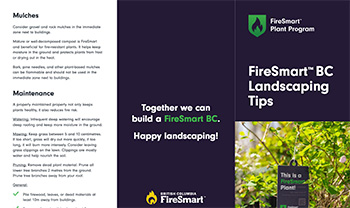 Wildfire Community Preparedness Day: Sunshine Valley
Wildfire Community Preparedness Day promotes communities around the province joining together with the goal of improving wildfire resiliency in their area. In this video, residents of Sunshine Valley united to reduce wildfire risks in their community despite the wet weather.
FireSmart BC Home Assessment Overview
This video shows a typical FireSmart Home Assessment and walks through practical advice to make your home and property more resilient to the risk of wildfire.
Community FireSmart and Resiliency Committee Guidance
If you are part of a First Nations or local government community and are interested in ensuring that your community is supporting effective FireSmart activities that will increase your community's resiliency to wildfire, this document will assist you in forming a Community FireSmart and Resiliency Committee (CFRC).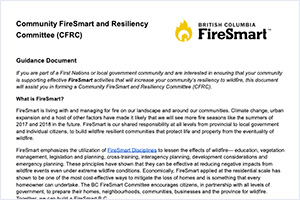 Community FireSmart and Resiliency Committee Terms of Reference
This template is provided as an example of a Terms of Reference, please edit and adjust to suit your specific needs and goals.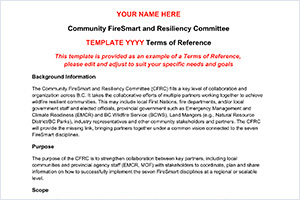 Penticton Ember Stomp Event Highlight
On May 6th, 2023 the City of Penticton hosted their First Annual Ember Stomp event.
Everyday Heroes
When it comes to reducing wildfire risks to your home, everyday chores like mowing your lawn make everyday heroes.
Public Awareness Infographic
This infographic breaks down the public awareness and understanding of wildfires and the FireSmart BC Program.