Tips To FireSmart Your Rural Home Infographic
See the following infographic for tips on how to FireSmart your rural property.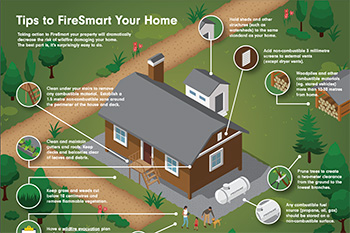 Magnetic Board Lesson Plan
The magnetic board introduces students of all ages to FireSmart concepts and campfire safety. It visually showcases how to make homes and campsites more FireSmart and promotes awareness of wildfire resiliency.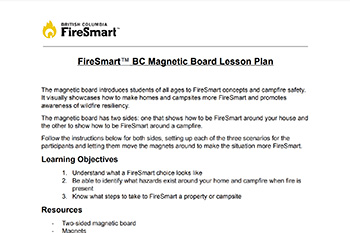 Wildfire Risk Reduction course
The course will introduce you to the key concepts, players, risk reduction strategies, and funding opportunities that help to minimize the negative impacts of wildfires in our province.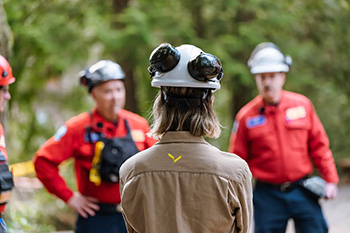 2023 FireSmart Community Funding & Supports Webinar
Learn more about the upcoming 2023 FireSmart Community Funding & Supports that will be available through the CRI program. This webinar covers an overview of program design changes and improvements to the funding provided by the Province of BC and administered by the Union of BC Municipalities in partnership with the First Nations' Emergency Services Society and BC Wildfire Service.
Webinar recording
Webinar slides
Funding information
Prepare for Wildfire Season: A Message From Jennifer Rice
Wildfire can threaten your household at any moment. Are you prepared? To learn how to prepare your property, your family, and even your pets for an emergency situation, visit firesmartbc.ca.
Fire On the Coast
Catastrophic wildfire on the coast may seem unlikely, but it's still a threat. Check out our latest video, featuring BC Wildfire staff and the chief of the Dashwood Fire Department. Together, they highlight the unique challenges and opportunities surrounding wildfire in coastal BC, as well as the collaborative and proactive ways that coastal residents can make their communities FireSmart.
FireSmart Coordinator – Dashwood
FireSmart Coordinators play critical roles in building wildfire awareness in communities. This position not only fosters participation in building wildfire resiliency, but it brings communities together in becoming FireSmart. Watch to learn more about the role.
The FireSmart Roadmap
No two journeys are the same, this road map is provided to help local governments and First Nations understand where to start and what steps to take on the way to community wildfire resiliency.
BCFSC Strategic Plan
This document outlines our vision, mission and goals for the years 2022 - 2025.
FireSmart Power Hour July 2022 Recording