TV and billboard ads drive a new message home: every homeowner has the ability and responsibility to control their wildfire risk
Last year was one of the most active and devastating wildfire seasons in recent memory. And we know that the frequency and severity of wildfires will likely get worse before it gets better. If our collective experience has taught us anything, it's that we need to be better prepared and more resilient.
The good news is, everyone can play a role in creating a more resilient British Columbia. Wildfire prevention is a shared responsibility and each of us is accountable for our actions. But while governments, municipalities, and other organizations all contribute to wildfire preparedness, BC homeowners are our first line of defense.
That's why our latest advertising campaign is designed to hit home or, more specifically, homeowners. For spring 2022, we're using billboard, TV, and digital ads to place the power of wildfire prevention into the hands of more homeowners than ever before. Those messy gutters, that unmowed lawn, the wood piled against the house—these are wildfire risks within each homeowner's control. Simply put, it's the little tasks, the common chores, and a little elbow grease that make a big difference. This is the message we want British Columbians to take home. Because if they don't, the consequences could be far worse.
Despite the success of our 2021 campaign, a review of our website data indicated that many British Columbians only turned to FireSmart resources at the height of the wildfire season. This year we're using every tool at our disposal to generate early awareness and create a sense of urgency amongst homeowners in our province's most vulnerable areas: strategically placed billboards will provide a physical reminder of wildfire risk; TV commercials will proliferate our campaign message; and digital advertisements will guide people to our campaign landing page. There, homeowners can begin to prepare for the wildfire season using FireSmart's easy, accessible, important, and effective steps.
Protecting your home is not random or a matter of luck. At FireSmart, we believe that when armed with the right information, anyone can greatly reduce the vulnerability of their property. And to make sure that everyone has access to this information, our campaign directs people to firesmart.bc.ca/prepare, where they can find an extensive library of free tools and practical advice.
Our homeowners manual empowers homeowners with critical information, like how wildfires grow and spread, how to spot vulnerabilities in a structure, and how to store fuel sources at a safe distance.
Implementing the tips found in this guide are crucial for mitigating potential fire risks around a property. Not only do they directly reduce the opportunities for embers to ignite , but they also make homes more defensible for firefighters, allowing them to spend more time focusing on suppressing the fire.
The FireSmart BC Landscaping Guide includes an extensive list of FireSmart plants, instructions on how to recognize the characteristics of other garden-favourites not yet on the list, and expert insights on making vegetation a barrier that keeps embers from igniting a property.
The Landscaping Guide also offers key facts about which plants do best in the various climates and microclimates throughout BC. Details on the watering needs and hardiness of recommended plants allow users to save time and money while simultaneously contributing to water conservation.
The FireSmart BC Plant Program provides gardeners, landscapers, and suppliers with the knowledge and tools to help mitigate wildfire risks where they live and work. It operates with and within the marketplace, putting wildfire resilience on the radar of all consumers who visit participating garden centres, even those not consciously looking for such characteristics.
The program was crafted with guidance from qualified experts in order to educate and empower gardeners and property owners to make informed choices—no research required. By simply placing specialized product tags on species regarded as FireSmart (those that offer greater resistance to fire than others), customers can immediately identify the safest products to plant in close proximity to their homes or other structures.
FireSmart's online resources are backed by vast amounts of research. Evidence shows that they help to reduce the risk of damage, even under the most extreme fire conditions.
Experts agree that when it comes to being FireSmart, education is everything. Take it from Jennifer Rice, Parliamentary Secretary for Emergency Preparedness BC, who's calling on residents of British Columbia to start preparing for the wildfire season ahead. "This is the time to get informed and take action for yourself, your family, and your community," says Rice. "I urge you to prepare for wildfire now by going to firesmartbc.ca."
Combined with the simple yet targeted message of our spring campaign, our hope for 2022 is not just to highlight the dangers of complacency, but to inspire our audience to take action that could save their home and protect their community. Minor landscaping tasks and common household chores, like mowing the lawn, cleaning the gutters, and safely storing combustibles, are proven to reduce a homeowner's wildfire risk.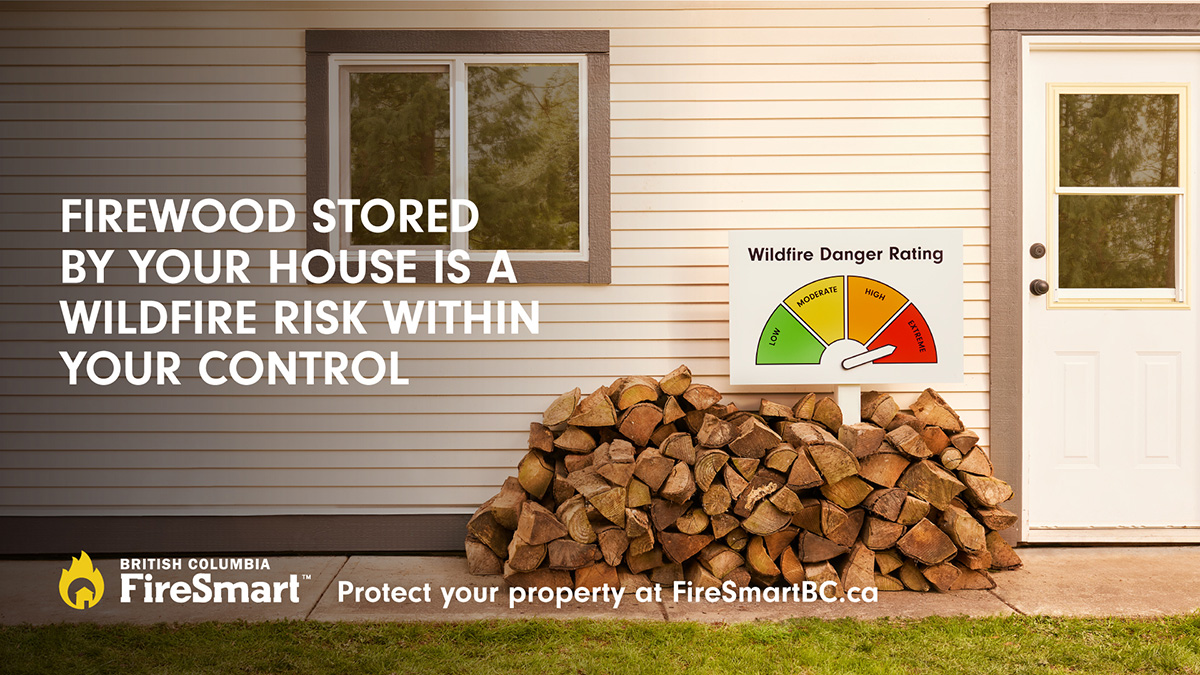 These are just a few of the many ways to protect your property. The time is now for British Columbians to FireSmart their homes, and the resources to do so have never been more accessible. It's the steps we take right now that could not only save homes, but also lives. For that reason, our message this year is urgent and clear: every homeowner has the ability AND responsibility to control their wildfire risk today.