Watch:
We asked the experts
Looking for easy FireSmart tips? Check out 10 tips to FireSmart your home.

You won't want to miss this.
Join us on May 26th, 2021 for our inaugural symposium to learn about the future of FireSmart across the country, hear our live panel share FireSmart community success stories, and much more.
Register now
See agenda
The best thing about being FireSmart is how easy it is.
The homes that are prepared are the homes left standing. Thankfully, there are simple steps you can take to drastically reduce your property's risk.
Make sure to download the full homeowners guide to how to FireSmart your property:
Download Guide
Clean your roof and gutters.
And trim any branches overhanging on to your roof. Embers will look to jump on to home, so don't give them anything to catch fire on.
Move firewood and propane 10-30 metres away from your home.
Don't let fire come to your door. Keep your grass cut to below 10cm, and move anything that can be fuel for the fire a safe 10-30 meters distance from your home.
Have a wildfire evacuation plan within your household.
Don't wing it. Having a simple evacuation plan is easy to do, and makes a world of difference.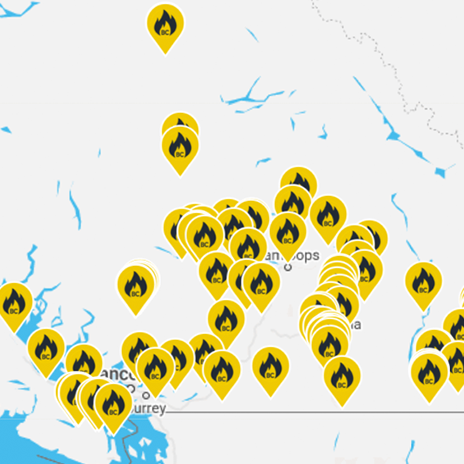 Is your neighbourhood FireSmart?
FireSmart Canada officially recognizes over 100 neighbourhoods across BC as being prepared for the threat of wildfire. Check if your community is on the list of "FireSmart Recognized Neighbourhoods".
Recognized Communities
Introducing the
FireSmart BC Magazine
Calling all homeowners, active community members, First Nations and Local Governments: the FireSmart BC Magazine was created to keep you informed on all things FireSmart. Stay in the know with all the latest news, success stories, FireSmart tips, and more.
See magazine
Introducing: The Get FireSmart Podcast
One of our foremost goals at FireSmart BC is to find creative ways to get our message of wildfire prevention and mitigation in front of...
Read More
Coming to a neighbourhood near you: Ember™ the FireSmart Fox
Spring is the season of new life and new beginnings, making this the perfect time to get acquainted with our new mascot, Ember the FireSmart...
Read More
Helping agriculture in your community prepare for wildfire.
Are you local government or First Nations? Check out the free workshop: Training For BC Farm Ranch Wildfire Preparedness.
Sign up now
Farm and ranch wildfire preparedness resources
Producers face unique challenges from wildfire. Learn more about how you can help prepare here.
In Vegetation Management
Preparing your property for wildfire doesn't mean you have to remove all the trees. There are many vegetation management options that can make your home resistant to wildfire.
Go
In Education
There will undeniably be an increasing number of home losses when we consider present trends in climate change, expansion of the wildland urban interface and changes in forest fuels
Go
In Cross-Training
Simulation exercises are often the best way to cross train between agencies and ensure everyone is prepared for wildfire eventualities in the wildland urban interface.
Go
FireSmart In The Community
I have a lot of confidence in my home now that I've done this work.
- Pat Crook, Mackenzie
It allows us to interact with the community, and set up some guidelines that can help us reduce our wildfire risk.
- Krista Minar, Merrit