Watch:
BC woman's story about how she saved her home from wildfire
What is FireSmart?
Wildfire is a risk that all British Columbians need to be prepared for. But while that seems like a big task, FireSmart is here to help you get started and make proven steps toward protecting your home and your community from wildfire.
Learn more
The best thing about being FireSmart is how easy it is.
The homes that are prepared are the homes left standing. Thankfully, there are simple steps you can take to drastically reduce your property's risk.
Make sure to download the full homeowners guide to how to FireSmart your property:
Download Guide
Clean your roof and gutters.
And trim any branches overhanging on to your roof. Embers will look to jump on to home, so don't give them anything to catch fire on.
Move firewood and propane 10-30 metres away from your home.
Don't let fire come to your door. Keep your grass cut to below 10cm, and move anything that can be fuel for the fire a safe 10-30 meters distance from your home.
Have a wildfire evacuation plan within your household.
Don't wing it. Having a simple evacuation plan is easy to do, and makes a world of difference.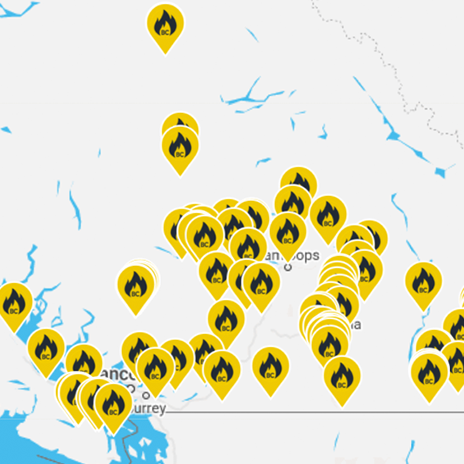 Is your neighbourhood FireSmart?
FireSmart Canada officially recognizes over 100 neighbourhoods across BC as being prepared for the threat of wildfire. Check if your community is on the list of "FireSmart Recognized Neighbourhoods".
Recognized neighbourhoods
The latest and greatest from the FireSmart BC Magazine
Calling all homeowners, active community members, First Nations and Local Governments: the FireSmart BC Magazine was created to keep you informed on all things FireSmart. Stay in the know with all the latest news, success stories, FireSmart tips, and more.
See magazine
Welcome to the new-look FireSmart BC website
A faster, easier system to find what you came for. Every challenge is an opportunity to learn and grow, so when British Columbia's historic 2021...
Read More
FireSmart BC uses gardening and landscaping boom to boost awareness
Gardening and landscaping are having a moment. The COVID-19 pandemic has locked down billions of people around the world for much of the past year...
Read More

Save the date
Join us on May 11th and 12th, 2022 in Kamloops, BC for the 2022 FireSmart BC Conference: Building Collaboration and Community. Funding is available for local governments and First Nations to assist with costs to attend - just make sure to apply for CRI Community Funding and Supports Program funding by October 8th, 2021.
Learn more
In Vegetation Management
Preparing your property for wildfire doesn't mean you have to remove all the trees. There are many vegetation management options that can make your home resistant to wildfire.
Go
In Education
There will undeniably be an increasing number of home losses when we consider present trends in climate change, expansion of the wildland urban interface and changes in forest fuels
Go
In Cross-Training
Simulation exercises are often the best way to cross train between agencies and ensure everyone is prepared for wildfire eventualities in the wildland urban interface.
Go
FireSmart in the community
"We're very proud to be the 100th FireSmart neighbourhood in British Columbia."
- Kerry Anderson, Summerland
"The past few summers, FireSmart has been at the forefront of our minds. We've been working on the property ... clearing the forest floors, moving trees, all the debris, and clearing them away."
- Gary Stamper, Squamish