September 30 marks National Day for Truth and Reconciliation, recognizing the tragic history of residential schools, including the missing children, the families left behind and the survivors.
National Day for Truth and Reconciliation is now a statutory holiday in BC, allowing more British Columbians to get involved in advancing reconciliation by participating in local events, having important conversations with family and friends, and finding meaningful ways to learn more about the history and legacy of the residential school system.
The History of National Day for Truth and Reconciliation
Phyllis Jack Webstad, Northern Secwépemc (Shuswap) from the Stswecem'c Xgat'tem First Nation (Canoe Creek/Dog Creek Indian Band), and her community established Orange Shirt Day in 2013. The initiative was born from her own experiences and the experiences of other residential school survivors who attended St. Joseph's Mission near Williams Lake.
The symbol of the orange shirt came from Phyllis' memory of her orange shirt being taken from her on her first day at a residential school when she was six years old. What originally started as a grassroots campaign to remember the survivors of the residential school system quickly grew into a day recognized across the entire country. Eight years after its adoption, Canada established the National Day for Truth and Reconciliation as a federal statutory holiday.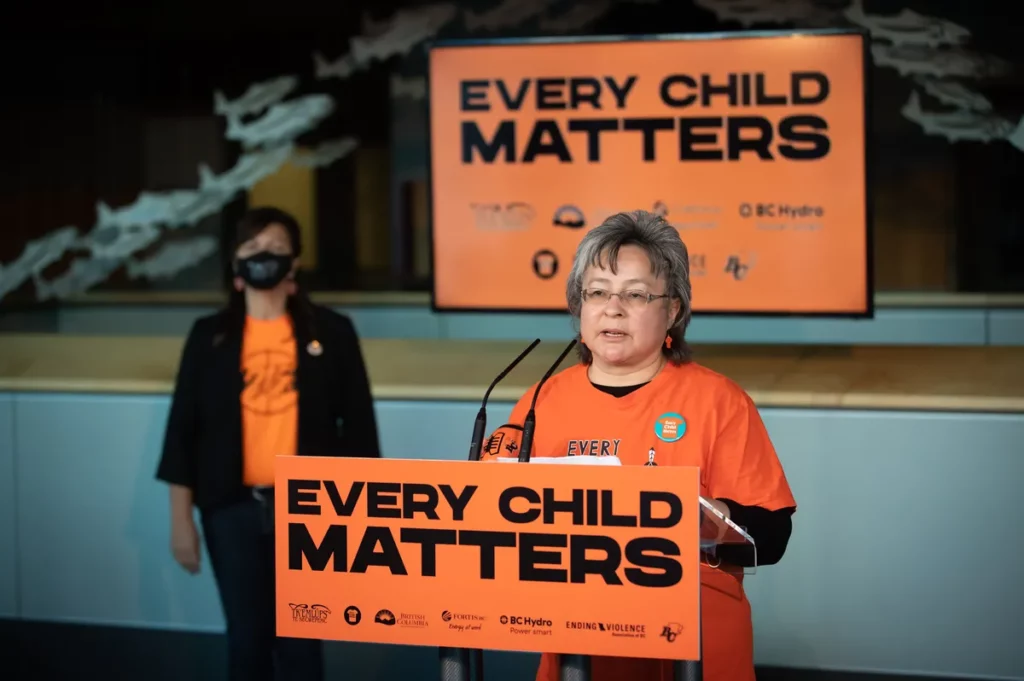 On March 9, 2023, the Province of British Columbia passed legislation to make September 30 a statutory holiday, joining Canada, Prince Edward Island, the Northwest Territories, Nunavut and the Yukon.
National Day for Truth and Reconciliation is a time to honour the healing journeys of residential school survivors and their families and to engage in meaningful reflection, learning and public dialogue about the history and legacy of the residential school system, including the relationship between Indigenous and non-Indigenous peoples.
Loss of First Nations and Indigenous Culture in BC
Today, there are approximately 200,000 Indigenous Peoples in BC, with three distinct cultural groups: First Nations, Inuit and Métis. These communities are diverse in their customs, spirituality, traditions, and language. There are more than 200 distinct First Nations in our province, which also have their own unique traditions and history with more than 30 different First Nation languages and close to 60 dialects spoken in the province.
Before the arrival of European explorers and traders, the area now known as BC had been occupied by Indigenous Peoples for over 10,000 years living and thriving with their own distinct cultures, languages, and ways of knowing. When European explorers first moved into Indigenous territories in the mid-18th century, they used their numbers to impose their cultural values, religions, and laws and made policies that did not favour Indigenous Peoples. As a result, the Indigenous People became dependent on colonizers.
After more than 150 years of colonization and assimilation, The Indian Act and Residential Schools, Indigenous cultures have been impacted by loss of connection and relationship with the land, traditional practices, families, communities, and languages – the essential ties that strengthen Indigenous identities.
For over a century, Indigenous Peoples have had to choose between living and raising their families on reservations, or relocating to colonized communities. Reservations can provide cultural benefits and connections to the land while moving away provides better employment and educational opportunities.
Restoring Indigenous culture is a crucial part of reconciliation and Indigenous Peoples must be leading these conversations. Non-Indigenous people can support the preservation and renewal of Indigenous culture by boosting Indigenous voices, promoting self-determination and governance, and supporting Indigenous-led programs and organizations.
The History of Suppressing Indigenous Cultural Fire Practices
Before colonization, Indigenous Peoples used fire or cultural burning for a variety of purposes, such as hunting and driving game, improving the ecosystem, promoting the growth of food and medicinal plants, for clearing trails, for communication and in cultural ceremonies. The timing of burning was based on traditional knowledge accumulated over millennia. Managed fires were an important component of Indigenous land stewardship.
With colonization came the suppression of beneficial Indigenous fire practices in BC and around the world, ultimately disrupting this sacred time-honoured practice. After laws like the Bush Fire Act of 1874 made it illegal to apply fire to the landscape, cultural burning fell out of practice. Ever since, a combination of climate change and aggressive wildfire suppression in BC have resulted in a dangerous buildup of forest fuels, greater tree encroachment on grasslands, and infilling of forests, ultimately increasing the severity of wildfires and decreasing the biodiversity and health of our forests.
BC's history of fire suppression has led to a loss of culture and an increased risk of wildfires. Because of this absence, younger generations did not grow up with fire and were disconnected from this long-standing practice, relying on elders to learn about good fire and its ability to clean and manage the land.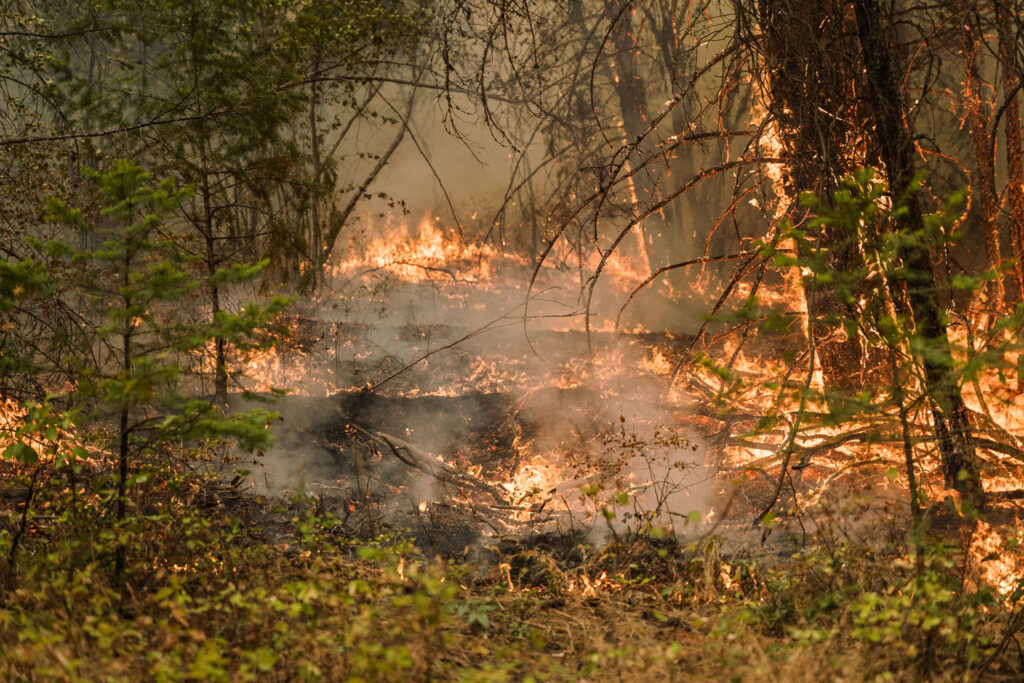 Efforts have been made to correct past wrongdoings and recognize the importance of fire on the landscape. Following the 2017 wildfires in BC, a report made by Chief Maureen Chapman and former cabinet minister George Abbott recommended the integration of Indigenous knowledge and increased use of cultural and prescribed burning. The new reality of more frequent and severe wildfires has prompted a shift from complete fire suppression towards a holistic forest management approach that includes using fire as a tool and increased respect for Indigenous traditional knowledge about fire.
The BC government says it intends to repair relationships with First Nations communities and is supportive of more Indigenous-led burning, which is currently eligible for funding under the Community Resiliency Investment program. The Province has also provided ongoing funding to the First Nations' Emergency Services Society of B.C. (FNESS) to support the inclusion of traditional knowledge, which led to the initiation of a Cultural and Prescribed Fire Program. Integrating traditional practices and cultural uses of fire into wildfire prevention and supporting the reintroduction of strategic burning is also a commitment of the Declaration on the Rights of Indigenous Peoples Act Action Plan.
There is still a lot of work to be done to fully restore cultural burning, including relationship building between government and Indigenous communities, and policy changes to remove barriers and make it easier for Indigenous Peoples to use fire in the way their ancestors did for generations.
While there are differences between traditional Indigenous fire practices and western science methods, there are some similarities, and ultimately there is a shared goal of working together to create healthy, resilient forests. More and more, government agencies, Indigenous communities, land managers, and other organizations are coming together across the province to help manage and protect our forests, communities and wildlife. The emerging vision of a future where traditional Indigenous fire practices are "braided" with western approaches holds promise for a more resilient BC.
How to Participate in Reconciliation
Reconciliation is the process of developing a respectful relationship between Indigenous and non-Indigenous people and working together to overcome the negative effects of colonization.
A first step is to acknowledge the harmful colonial policies and practices, such as residential schools, loss of lands, inequitable access to essential services, and suppression of culture, and then work towards positive ways to move forward together.
Below are some personal actions we can all take to work towards reconciliation:
Educate yourself with books, documentaries and podcasts that reflect on the residential school experience.
Volunteer at an Indigenous non-profit or visit a local Indigenous organization.
Support Indigenous artists, musicians and businesses.
Watch Indigenous-focused films and documentaries.
Attend a cultural event open to the public.
Create a family project around Indigenous history:

Learn greetings in languages
Harvest traditional berries and medicines
Cook an Indigenous dish or learn about traditional foods
Play and learn traditional games
Listen to Indigenous artists and music.
Participate in Orange Shirt Day, National Indigenous Peoples Day, National Indigenous History Month and National Day for Truth and Reconciliation.
Learn the land acknowledgement in your area. Encourage your school or company to give a land acknowledgement at assemblies, meetings and events.
Make sure to look up the local events and activities in your community to commemorate the history and legacy of residential schools. Here are a few examples.
Reconciliation is an ongoing process rooted in action. It's time to listen, learn, reflect, support, and use positions and privileges to act.
Education Resources
Books for adults
Books to read with your kids
Artist features
Galleries
Films and documentaries
Indigenous podcasts, music, artists
References
CBC Communications. "Personal acts of reconciliation". Posted: Jun 01, 2018 | Last Updated: June 14, 2018 https://www.cbc.ca/news/canada/manitoba/community/personal-acts-reconciliation-1.4687405
Copes-Gerbitz, K., Hagerman, S.M. & Daniels, L.D. "Transforming fire governance in British Columbia, Canada: an emerging vision for coexisting with fire." Reg Environ Change 22, 48 (2022). https://doi.org/10.1007/s10113-022-01895-2
CanadaHelps. "The Resurgence of Indigenous Cultures and Languages in the Canadian North". Posted on June 14, 2022. https://www.canadahelps.org/en/giving-life/the-resurgence-of-indigenous-cultures-and-languages-in-the-canadian-north/
Government of British Columbia. "National Day for Truth and Reconciliation". Accessed September 22, 2023. https://www2.gov.bc.ca/gov/content/governments/indigenous-people/national-day-for-truth-and-reconciliation