Gardening and landscaping are having a moment.

The COVID-19 pandemic has locked down billions of people around the world for much of the past year or so, and many of them have been using the extra time to bring their land to life. From flowers, food, and fences to statues, stones, and shrubbery, homeowners are filling in the hours by using gardening and landscaping to improve their properties.Canadians have been no exception to this global trend, especially when it comes to raising their own produce. According to a survey published in October 2020, 51% of respondents reported growing at least one fruit or vegetable at home – and 17.4% said they had started doing so since the pandemic began. Additionally, one must simply see the empty shelves at their local hardware store or garden centre for anecdotal evidence on the national boom on growing and landscaping.
Individual homeowners may be surprised to learn how gardening and landscaping can not only beautify their yard or put food on the table but also protect their properties from wildfire, and that they can do most of it themselves. The new FireSmart BC Landscaping Guide explains how to ensure that if and when a wildfire threatens your property, you already have taken a series of simple steps to help keep the flames from engulfing your home, including:
Spacing out trees and pruning lower branches to slow the spread of fire
Breaking up the continuity of plants to deny flames a direct route
Keeping your lawn trimmed to less than 10 centimetres to reduce the intensity of any fire that takes hold
Being strategic by planting only fire-resistant species of trees, shrubs, plants, and grasses.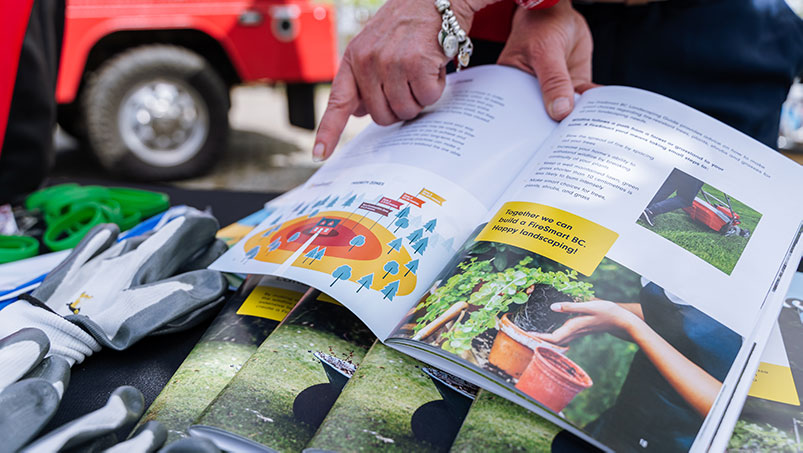 Based on FireSmart Canada's Guide to Landscaping, this first iteration of the FireSmart BC Landscaping Guide was created by individuals and organizations from across British Columbia with a passion for FireSmart and landscaping. Those participating in development of the guide included First Nations community members, representatives from Emergency Management British Columbia (EMBC), the BC FireSmart Committee (BCFSC), the Union of BC Municipalities (UBCM), the BC Wildfire Service (BCWS), and the First Nations' Emergency Services Society (FNESS).
Despite this collective effort, a resource like this is only useful if people put the ideas into action, and the best way to make that happen is to make it easy. Accordingly, we also have developed the FireSmart BC Fire-Resistant Plant Tagging Program, which visually shows gardeners which plants are considered more fire-resistant, right at the point of purchase. This reduces the need for in-depth knowledge or advanced research, and also educates all buyers, not just those fortunate enough to have downloaded a copy of the Landscaping Guide. Naturally, we also enlisted our favourite FireSmart messenger, Ember, to help get the word out.
As a prelude to implementing this program across the province, we are piloting it at two local garden centres in wildfire-susceptible areas: Art Knapp Kamloops and Art Knapp Prince George. Both pilots were recently launched with events that also included BC Wildfire Staff, Fire Departments, and Local Regional Districts. The outreach at these events was a major success, with numerous local greenthumbs picking up copies of the FireSmart BC Landscaping Guide for their studies, as well as fire-resistant plants, clearly labelled as such, for their properties. Given the strong uptake prompted by this trial run, we feel confident that the tagging program will have a major impact when we roll out the full-size version next summer.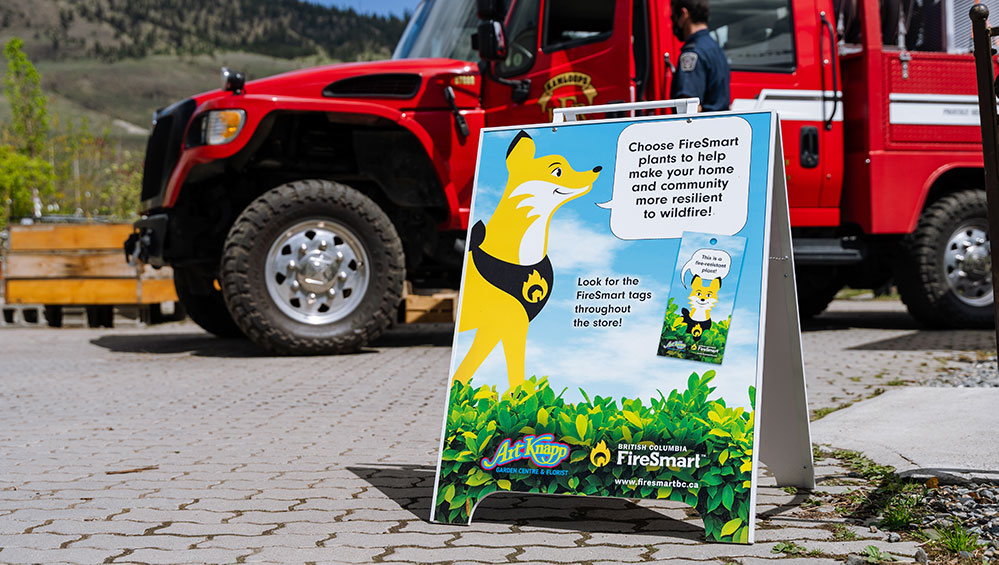 In the meantime, we've distributed the guide to participating retailers across the province, so British Columbians keen to protect their properties should look for it at their local garden centre.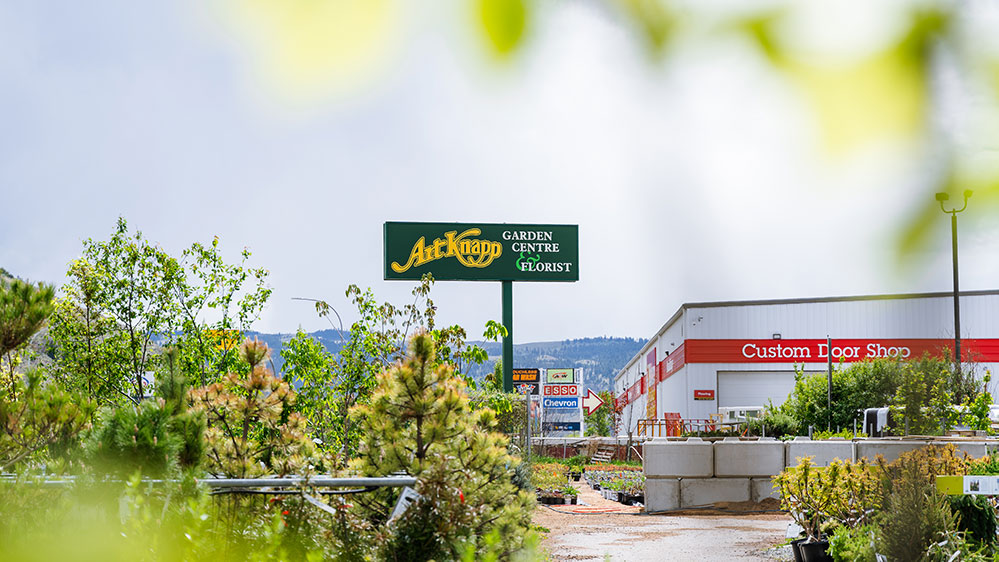 Making it quick and easy to select fire-resistant vegetation is just the latest effort by FireSmart BC to help mitigate the risk of wildfire. But because this particular program piggybacks on a market that is growing by leaps and bounds, it has unusually strong potential for some truly penetrating awareness-building. Partnering with garden centres enables communication with a huge and growing sector of the population, all of them people who take an interest in their yards. With such a large and well-predisposed audience on hand, we look forward to making further use of this unique platform.